Rhythmlink Once Again Named a Best Place to Work in South Carolina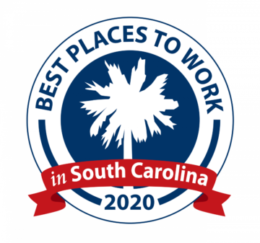 July 30, 2020
Rhythmlink International, LLC. was recently named as one of the Best Places to Work in South Carolina. This fifteenth annual program was created by SC Biz News in partnership with the South Carolina Chamber of Commerce and Best Companies Group. This is the ninth consecutive year Rhythmlink has been named a Best Place to Work in South Carolina.
This survey-and-awards program was designed to identify, recognize, and honor the best employers in the state of South Carolina, benefiting the state's economy, workforce, and businesses. The list is made up of 74 total companies. Rhythmlink International, LLC has been named one of this year's Best Places to Work in South Carolina.
"We are honored to be recognized as one of the best places to work for the 9th year in a row", said Joe Straczek, Rhythmlink's Chief Operations Officer and Chief Financial Officer.  "This is my first year with Rhythmlink and I have joined a truly special team.  Core values are demonstrated everyday as we are customer-focused, team-oriented, trustworthy, and responsible.  Even throughout the unprecedented challenges of the Covid-19 pandemic, our employees continue to remain committed to serving our customers as the priority while our management team has ensured the safest possible working environment.  What makes this organization special is that our team members believe they have an opportunity to work together to make things better and take pride in knowing they are making a difference".
To be considered for participation, companies had to fulfill the following eligibility requirements:
be a for-profit or not-for-profit business or government entity;
be a publicly or privately held business;
have a facility in the state of South Carolina;
have a minimum of 15 employees working in the state of South Carolina; and
be in business a minimum of 1 year
Companies from across the state entered the two-part survey process to determine the Best Places to Work in South Carolina. The first part consisted of evaluating each nominated company's workplace policies, practices, philosophy, systems, and demographics. The second part consisted of an employee survey to measure the employee experience. The combined scores determined the top companies and the final ranking. Best Companies Group managed the overall registration and survey process, analyzed the data, and determined the final rankings.
The ranked companies will be recognized at a virtual awards ceremony on August 21, 2020, and the rankings will be published in the August 2020 issue of SCBIZ magazine.
"I am so proud to be able to be part of an organization where I look forward to coming to work every day with co-workers who are so engaged and enthusiastic about helping others" said Shawn Regan, Rhythmlink's Chief Executive Officer.
For more information on the Best Places to Work in South Carolina program, visit www.BestPlacesToWorkSC.com.